PIPE DREAM, my first novel, came out of the pain of a real life struggle with addiction. It is the only book I've written that was based wholly on that experience. It is one of the reasons I was named, along with Ben Franklin and Noam Chomsky,  as one of the 50 most important writers ever to come out of Philadelphia. Last week, Pipe Dream was recognized by Booklist as one of the best Philadelphia's best crime novels. Here's what the editors said: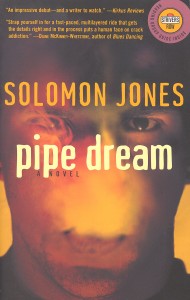 "This debut novel by Jones, a Philadelphia journalist and columnist, may still be the most powerful thing he has written. When a man is shot in a crack house, crack addict Leroy and hooker Pookie take cash and a gun from the body and split—finding out later the corpse was a mayoral aspirant. Their street smarts, and those of their friends, are put to the test as they try to stay a step ahead of the cops. Jones offers a knowledgeable, shocking, and visceral portrayal of the crackhead's world." – Booklist
CLICK HERE to read the entire list of great Philly reads from Booklist.
Published in 2001 by Random House, Pipe Dream is more than the story of four drug addicts pursued by the police for a murder they did not commit. It is a story of race and class, of graft and corruption, and of the good people who eek out an existence beneath it all. The book is in turns graphic and touching, thrilling and heartbreaking. More than that, it is a story that I meant with every fiber of my being.
I'm so glad that in 2014, 13 years after it was written, Pipe Dream is still among the most influential novels ever to come out of our city.
Learn more about Pipe Dream and my other crime novels. CLICK HERE